From the President
Hi Everyone!
Rumor has it Spring starts this month… that means getting our Jewish souls ready for the upcoming holidays of Purim and Pesach, and it means getting ready for our "traditional" community celebrations of those holidays. I put traditional in quotes, because we are PT after all, and nothing is quite traditional here in our corner of the northwest… Watch for their announcements, including the Purim one later in this newsletter. But before getting too far ahead of ourselves, I would like to take a moment to thank everyone involved in our recent past gettogethers, including Shabbat, and hopefully, our first in a series movie night… As always, our events depend on our dedicated community members who come out and set up, bring a dish for the pot-luck.. stick around and nosh and kibbitz, and help clean up before heading out. Yasher Koach to all involved. Coming up this month in addition to our Shabbat Services is our annual Purim Celebration and Shaloch Manot Delivery! This year's celebration will not be the same without you, so please come on by! And, a short public service announcement: If you are in need of Passover greeting cards (and who isn't by the way?), Don's Pharmacy has over 75 different versions on their shelf right now! Head on down and get yours before they run out. (Seriously, over the years, Don's has always had a nice selection of appropriate greeting cards and gifts for a variety of Jewish holidays...)
Jon
Kabbalat Shabbat
Friday, March 14
Led by Emily Katcher
6:30 PM St. Paul's Episcopal Church
Purim Party
Sunday, March 16
Games, Megillah, Potluck and more!
4:00 PM St. Paul's Episcopal Church
Shabbat Bagel Brunch
Saturday, March 22nd
10:00 AM
St. Paul's Episcopal Church

see the calendar for details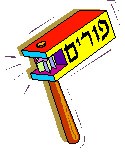 Purim is here!
Get you costumes ready! Purim is fast approaching. By now, you should have already received our annual Purim Shaloch Manot fundraising solicitation. There are 4 mitzvah's associated with Purim: Hearing the Megillah, enjoying a crazy fun festive meal celebration (I love this religion!), Tzedakah (giving to the Needy), and sending food to friends. Luckily for you, It's easy to fulfill the first two traditions.. just come to our community Purim Celebration on Sunday, March 16th, 4pm, at St Paul's). This year's celebration will feature a Megillah Sing-ALong (lots of classic songs interspersed with an enjoyable English reading of the Megilla) and a Game nght, where everyone's favorite games are transformed into a Purim specific theme…. Games like Jeopardy!, Sorry!, Hollywood Squares… Wheel of fortune… (the list to be determined, but it will be an afternoon of fun and games.. just show up!)
Now, our Religious School students have also made it easy for you to perform the other two mitzvot… Giving Shalach Manos baskets to others is more than a tradition;; it's a commandment for Jews to send two "portions" of edible food to others in order to fulfill the Mitzvah. Because of this, on Purim day around the world, Jews deliver colorful gift baskets filled with Hamantashen and other goodies to friends and family. Giving Charitable donations is also a Purim Mitzvah (and of course, something worthy of year round participation). It's become a tradition here in PT for us the students to prepare baskets for the community, and to raise funds for a charity they choose by the baskets to community members, and then delivering those baskets to the community at the Purim party. Community members designate who whey want a basket delivered to, and the students do the rest. Over the years, the students have raised over $5,000 to support a variety of charities and offset a small portion of their religious school costs. This year's designated charity is the local chapter of Habitat for Humanity, an organization dedicated to helping families get into decent affordable housing. This year's baskets will include coupon's to Pan d'Amore, Metro Bagels, and Lehani's Deli and Coffee, homemade Hamantashen, and assorted treats and goodies. If you haven't received the fundraising form yet, please use the one attached to the emailed newsletter (and available on our Newsletter page.

QUESTBRIDGE FEIN FELLOWS AWARD
If you are a Jewish high school junior who meets the QuestBridge criteria of academic excellence, economic need, and demonstrated leadership potential, you are eligible to be considered for an award program offered by the Edward Fein Foundation and aimed at reaching Jewish students.
For more information check the website http://www.questbridge.org/for-students/feinfellows
or contact Rachel Fishbein at feinfellows@questbridge.org.
Religious School News:
February 22nd was a big day for Hebrew Chai leadership group. After a whole month of planning the service and learning songs we were able to lead the community in a lively Shabbat morning service. We hope to do it again, and that next time you will be there.
We interviewed 3 kids from Hebrew school about what they have been up to during the month of February:
Anna Molotsky says: "We have been learning to read and write Hebrew vocabulary words. We have had an Ashrei Challenge (to learn all the stanzas of the Ashreai prayer). We have a practice Torah service where we read the Torah part in English. We have been singing lots of songs with the Simcha Singers, our choir."
Sarah Marx adds: "We learned about Samson and Delilah, and about the mishkan, through story telling ("a taste of Torah"). I learned the word "Tapuach" (apple). I like being here (at Hebrew school). My favorite song is Mi Ha Ish."
And Asa Lupton says: "I learned the word "Hatool" (cat). I like that I get to learn in another place (in addition to all the other places I learn, like school). Choir is my favorite thing about being part of Hebrew school. I have been coming to Hebrew school for 2 years."
Movie Night
Last month, a small group of community members came out to view a free screening of Disobedience, a movie telling the true story of a Portuguese Ambassador who took it upon himself to disobey orders and issue visa for tens of thousands of people, including over 10,000 Jews, fleeing the advancing Nazi's during WW2. The power of the movie led us all to forget that it was shown on a computer projected onto the wall screen, that we were sitting on folding chairs in a church social hall… It's not the Rose, but watching movies with Jewish themes surrounded by other Jews provides a perfect context for discussion and growth. We hope you join us for our future installments in our movie series. Watch for announcements regarding upcoming screenings.

Membership
Thanks to all who have returned your 5774 membership contribution so promptly.
If you've not yet done so, please make every effort to return your 5774 membership contribution at your earliest convenience so that we can more easily plan our programs and operation for the year. If you've misplaced the appeal you received in the mail send an email to Barry at barryell@olypen.com or call 379- 3042.

A link to the membership form for 5774 can be found on our Membership Page.
Website
We hope that you will like what you find here, and welcome your comments. Please email: betshira@yahoo.com for general comments.
Submissions will be evaluated by the Board of Bet Shira prior to publication.  Submissions must be germane to the purpose of Bet Shira and www.betshira.com.  Commercial solicitations cannot be published. Please send your submissions in digital format.