From the President
Happy Hanukkah Bet Shira! Latkes as a Thanksgiving side dish was certainly an interesting clash of cultures… If you haven't had your fill of latkes yet, please join us at the community Hanukkah party on Sunday, Dec 1st… along with singing and games, there will be latkes! So come be a part of our celebration. We do have some new programming planned, including bagel brunches to be held throughout the year on selected Saturday mornings, and a movie series. So watch for future announcements..
~Jon
Bet Shira's Annual Chanukah Party
Sunday Dec.1, 2013
4 PM at QUIMPER GRANGE!!
1219 Corona... end of Sheridan.. north of Hastings
NOTE: we DO have to change venues, so look for last minute notice here and in your Bet Shira emails.

Kabbalat Shabbat
Friday, December 13th
6:30 PM St. Paul's Episcopal Church
Kabbalat Shabbat
Friday, January 10th
6:30 PM St. Paul's Episcopal Church

see the calendar for details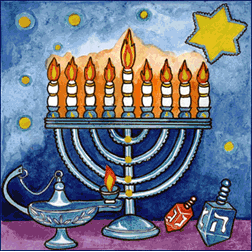 Religious School News:
The Bet Shira religious school is exploding with excitement and activity this year! We have a choir (the Simcha Singers) who love singing and just recently had their first out of town performance at Beth Shalom in Seattle. The Beth Shalom religious school attended, the kids sang beautifully and then we went to see the IMAX movie "Jerusalem." A great day!
At religious school all kids are learning conversational Hebrew at different levels. This has created a great interest in learning how to speak the language that they have been hearing for their whole lives, and all are enjoying it. We also continue our Torah stories which have come alive with the "Morah Devorah show." It's very entertaining to see the kids be interviewed talk show style as they pretend to be different people from the Torah! Our Hebrew High group is going strong, taking on leadership projects, learning some Chasidic stories and helping with younger ones. All in all, a happy beginning of the year
NEW Bet Shira Bagel Brunch
Last month's Shabbat bagel brunch was a great success! Look for future brunches on Bet Shira's calendar.
NEW Bet Shira Film Series
Bet Shira is sponsoring an encore showing of Defiant Requiem and Disobedience. These two award
winning films are set during the holocaust. Look for upcoming show dates. See the calendar page for more details on the films.One film will be shown Saturday January 25th at 7:30pm at St. Paul's Episcopal Church.
Membership
Thanks to all who have returned your 5774 membership contribution so promptly.
If you've not yet done so, please make every effort to return your 5774 membership contribution at your earliest convenience so that we can more easily plan our programs and operation for the year. If you've misplaced the appeal you received in the mail send an email to Barry at barryell@olypen.com or call 379- 3042.

A link to the membership form for 5774 can be found on our Membership Page.
Website
We hope that you will like what you find here, and welcome your comments. Please email: betshira@yahoo.com for general comments.
Submissions will be evaluated by the Board of Bet Shira prior to publication.  Submissions must be germane to the purpose of Bet Shira and www.betshira.com.  Commercial solicitations cannot be published. Please send your submissions in digital format.